Celebrity Apex was ready to make its big splash in spring 2020. The global pandemic put those plans in drydock for a while. 
Celebrity Cruises' newest ship made its inaugural voyage in the Greek islands with a June 19 to 26 roundtrip sailing from Athens, and the newest cruise ship in the world proved to be well worth the delay – more than 15 months — for the first batch of enthusiastic cruisers. 
Celebrity Apex is a 2,900-passenger ship that sailed with just 650-plus people (and 900 crew). This is similar to the cruise I experienced on Celebrity Millennium a couple weeks earlier when it became the first cruise ship back in the Caribbean — after launching sailings from its homeport in St. Maarten. 
Celebrity Cruises was the first line to start the cruising comeback after the industry shutdown because of COVID-19 in March 2020. 
These are fully vaccinated cruises, with all adult passengers and crew required to be vaccinated and show a negative COVID test prior to boarding. I think the results I've seen for these two cruises show that these protocols are the best way back to ensure a safe environment that is also the fun cruise experience we all enjoy. 
Parent company Royal Caribbean also has shown good results with its sailing on Royal Caribbean's Adventure of the Seas, offering cruises from the Bahamas. 
On the cruise on Celebrity Apex in Greece, however, it was noticeably different from my cruise on Celebrity Millennium. This was obvious as soon as we got onboard. 
Greek regulations required that passengers wear masks while onboard the ship and moving around in public areas, even outside on the pool deck. This was the main difference with cruising in Europe vs. Celebrity Millennium in the Caribbean, where the experience felt quite similar to cruising pre-pandemic (aside from all crew always wearing masks). 
On Apex, social distancing was highly encouraged by asking that no more than four people use an elevator on the same ride and with seats the main theater marked off. We also had to schedule our time in the fitness center. 
Passengers get one hour in the gym, and no more than 30 people at a time were allowed in. This was never a problem during our cruise, though, as we never saw more than about eight people in there any time we went to work out.  
Cruisers also had to wear masks during spa treatments like massages. If guests were seen moving around in public spaces, crew would gently remind them to wear masks and even arrive with one to hand out to a passenger who needed one. 
Celebrity Apex, as noted, is the world's newest cruise ship, and passengers were ready to be wowed. The sister ship to Celebrity Edge will feel quite familiar to cruisers who have sailed on Edge.  
Apex features a spacious and clean design with an emphasis on open and comfortable spaces that are filled with striking artwork. You'll be delighted to wander the ship and find modern sculpture pieces and edgy photographs throughout.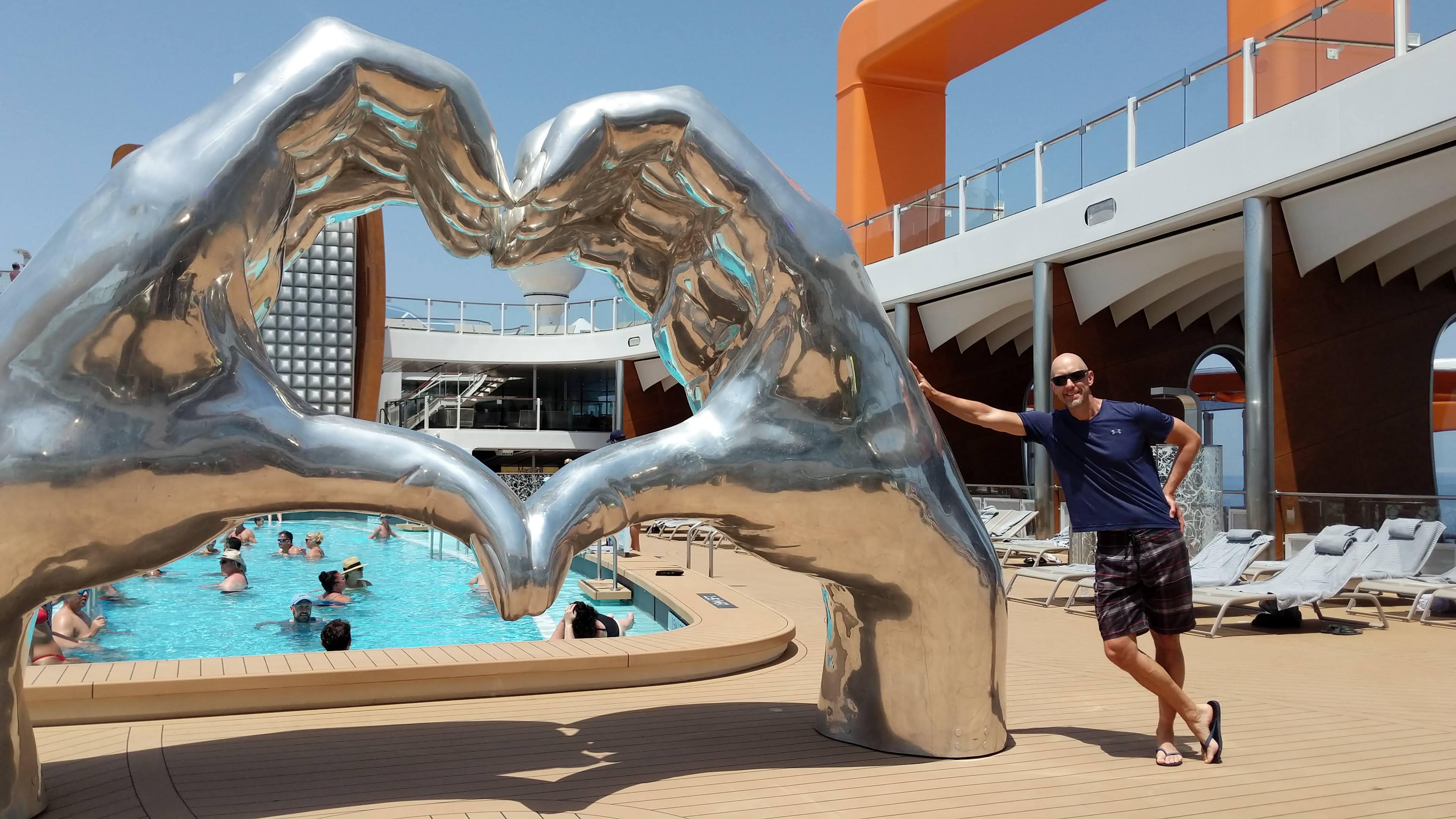 The most photographed piece undoubtedly will be the Silver Heart Hands on the Resort Deck at the head of the main pool.  
The Club, Eden and Resort Deck are just three of the places you can venture out to enjoy the nightlife and shows on Celebrity Apex. Live music, dance parties, silent disco events, aerialists and acrobat shows are on the weekly cruise program. The Club is the late-night dance and music venue with DJs and live acts that also offers the unique circus-style Caravan variety show.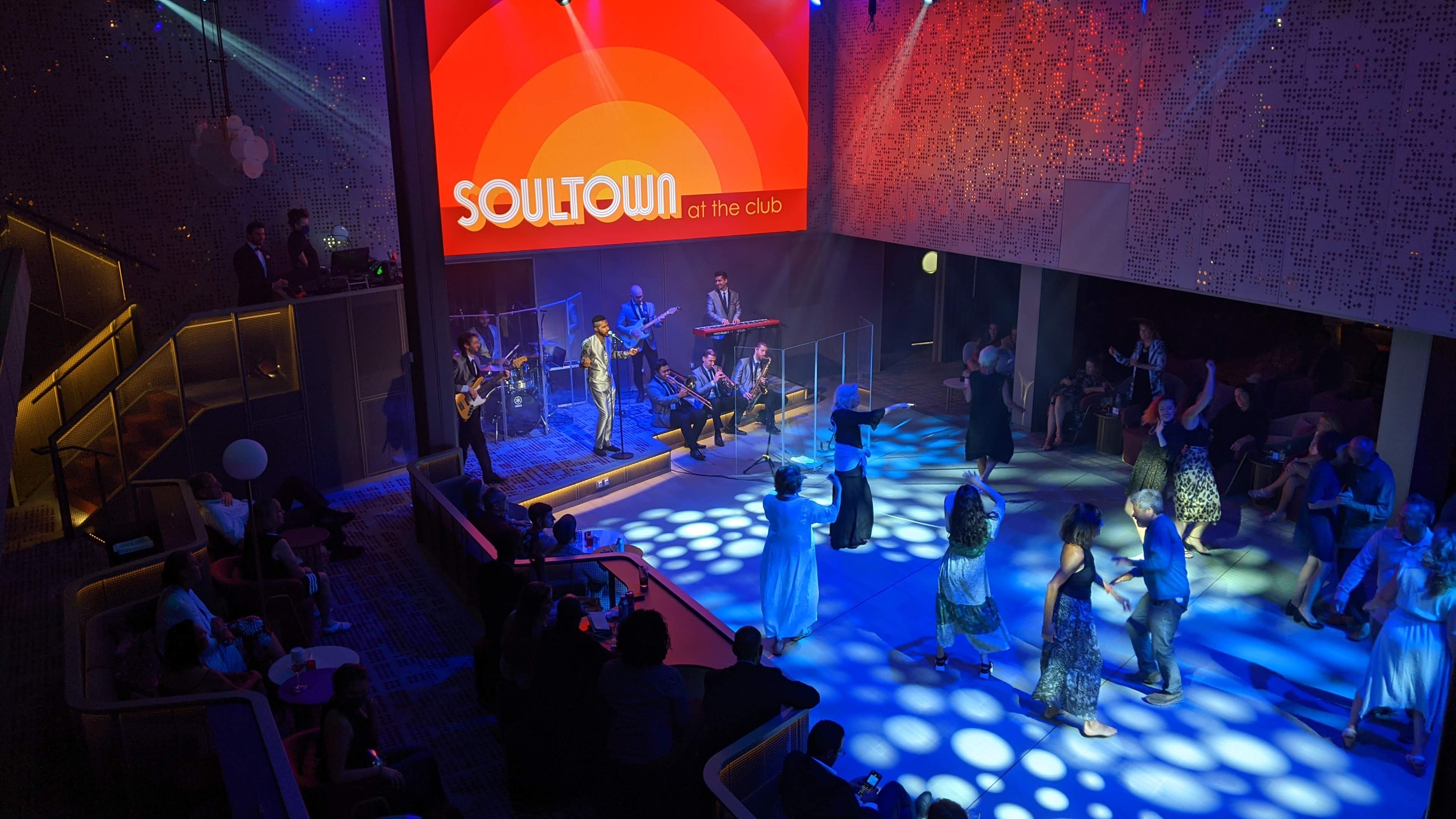 The Grand Plaza also serves as an entertainment hub in the center of the ship, carving out a large and vibrant space spanning Decks 3, 4 and 5. The centerpiece here is the Martini Bar with its energetic and engaging flair bartenders. I'm not a big martini drinker, but we were drawn here a few nights because it's just a great spot to come hang out and sip a tasty drink while chatting with new friends, listening to the live music from the nearby stage and seeing the impressive martini pours as bartenders juggle and flip their tumblers and bottles of booze while prepping and pouring the cocktails. 
Celebrity Cruises took what it learned from Celebrity Edge and refined and "elevated" the food and entertainment program for Apex. The cruise director is an energetic 27-year-old Giuseppe Moschella who can be seen all over the ship engaging his passengers and encouraging them to check out the next great live event happening on the ship.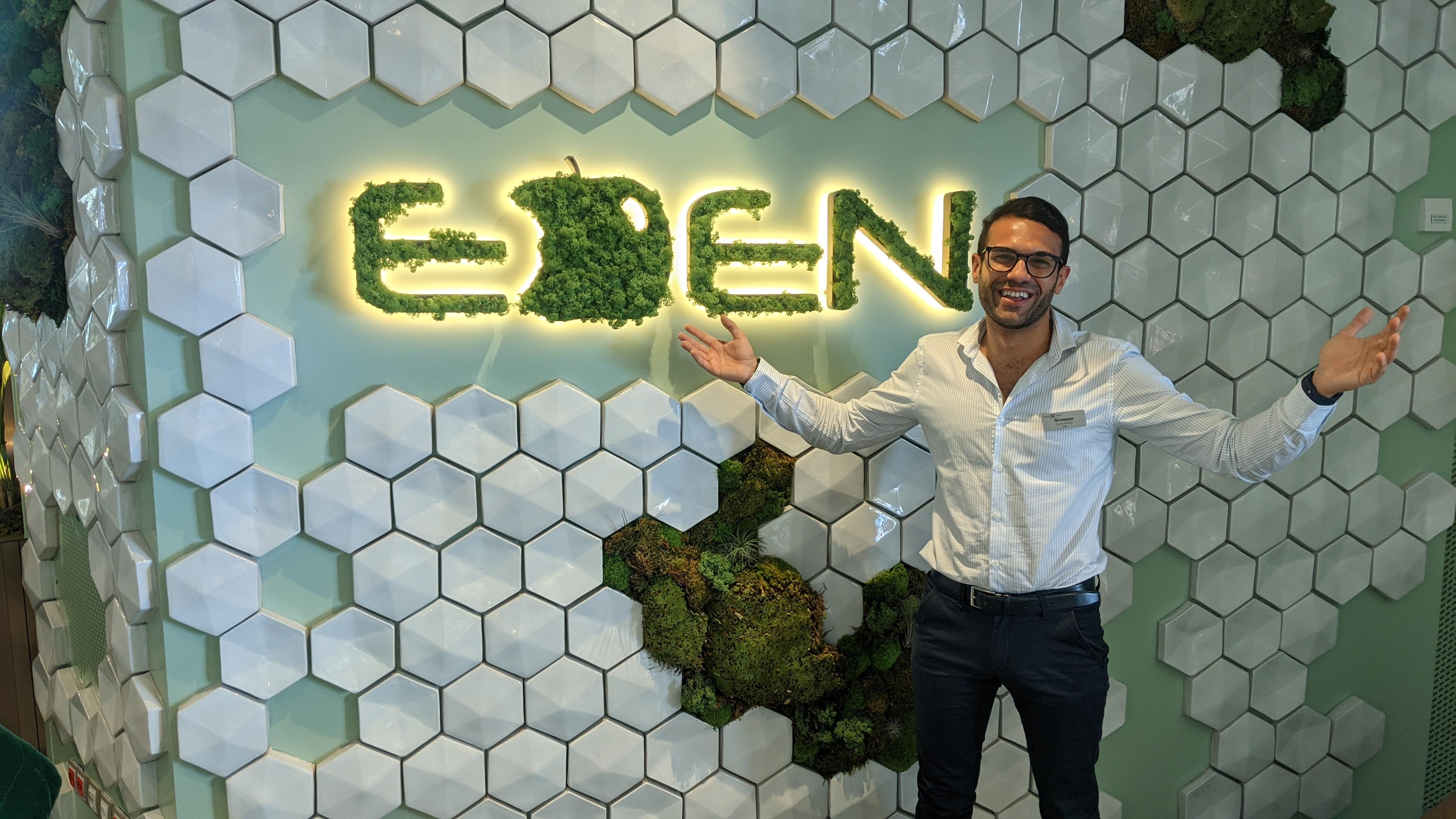 He says that he and the crew are so proud to have come out on the other side after the long wait. Moschella refers to the ship as "my baby" and that he can't wait to share it with cruisers during this first season in the Greek Islands.  
Standout Spaces 
Apex features a handful of innovative venues, aside from the Grand Plaza hub.  
Eden is a massive space at the aft of the ship that evolves throughout the day. Light pours in through four-story high windows, and the space offers a specialty restaurant serving dinners during which you can view the open kitchen and see the chefs preparing your courses. 
It also offers Eden Café, which serves light bites for breakfast and lunch. It's used in the mornings and afternoons mainly as a chill-out space for cruisers who want to find a cozy nook to read, relax or play games. There is a multitude of neat seating, with loungers, love seats, chair swings and couches.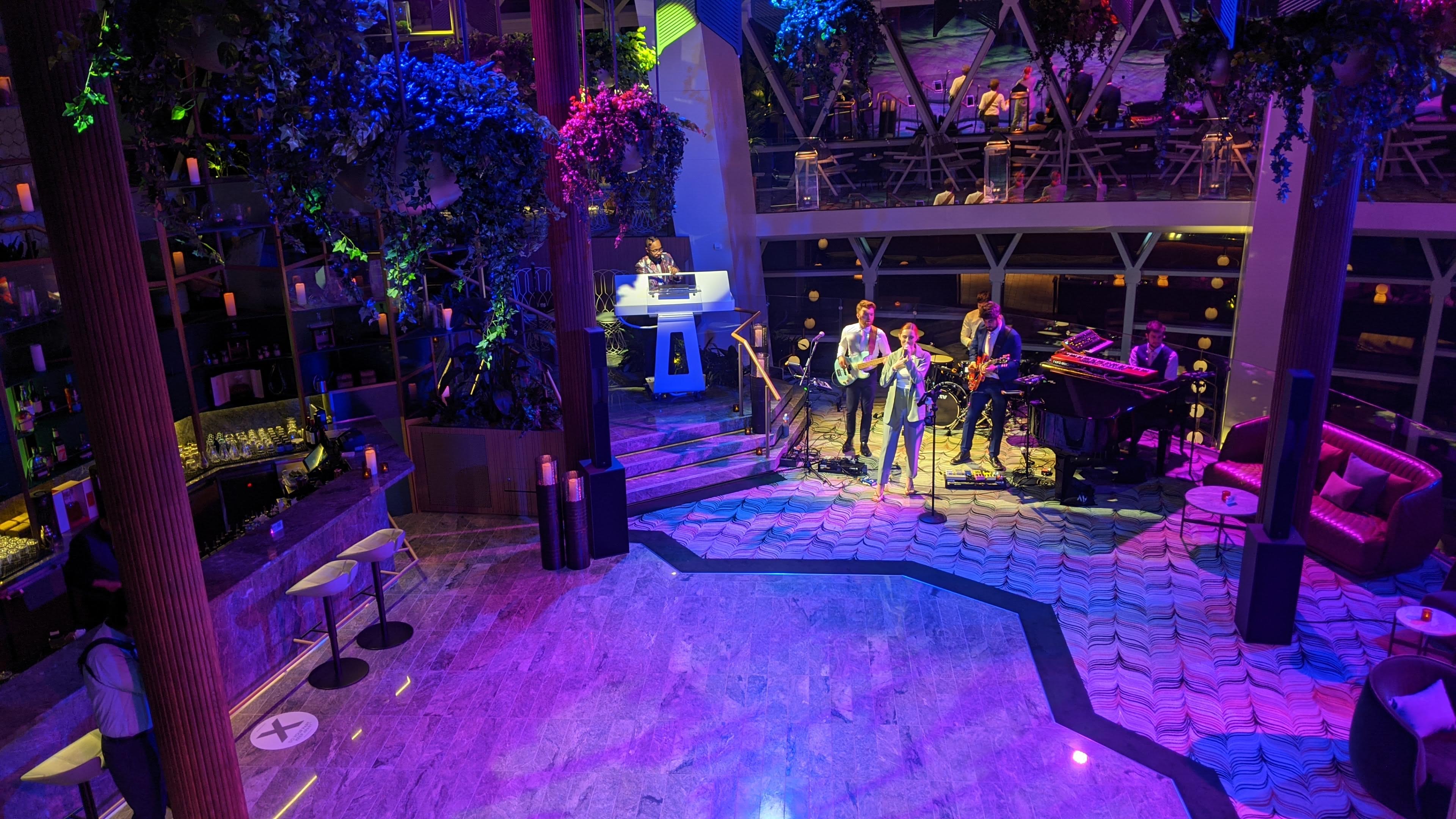 The room is filled with green plants and mosses as its primary décor but also includes splashes of colors like pink. During the evening, theme nights such as "The Night of the Chill" and "Night of Enchantment" set the mood. Dancers, acrobats, aerialists and music groups take the stage and perform for audiences. 
This programming is a stark change from Celebrity Edge, which sailed with "Edenists," who engaged with passengers throughout the venue, even in the dining room, in a sort of interpretive performance that some loved and others hated. 
Eden also offers a bar with mixologists serving up craft cocktails such as the Forbidden and The Veldt, a mezcal-infused smoky flavor bomb delivered in a snazzy box that you open to find yourself wafted in curls of fragrant smokiness.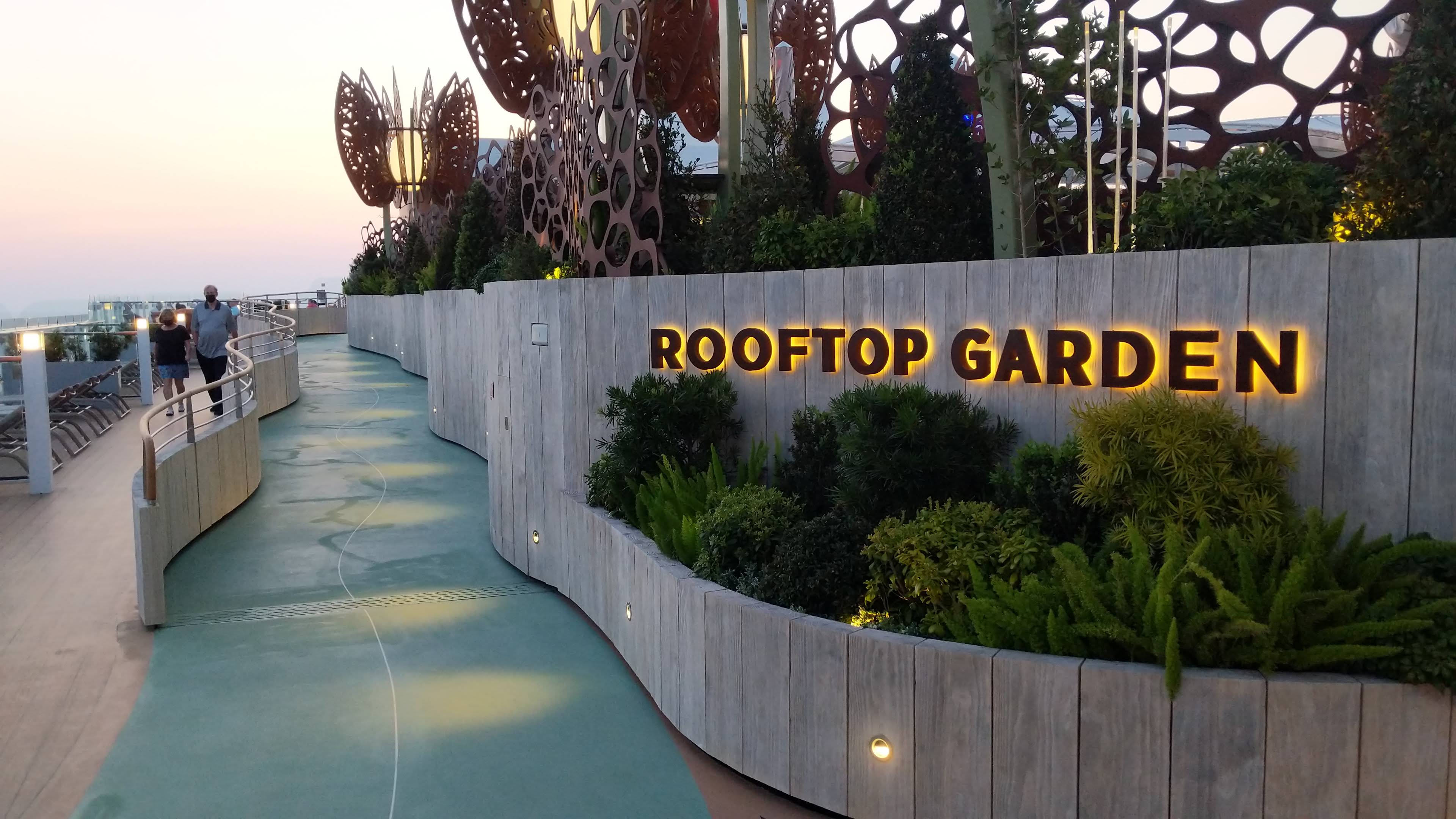 The Resort Deck and Rooftop Garden give Apex cruisers plenty of room to roam and relax in the sun in the top-deck outdoor spaces. I love how the emphasis on the ship is to give passengers plenty of style and comfort outside while cruising in spectacularly warm and sunny destinations. 
The Resort Deck has the main pool, a Solarium pool, cabanas for rent and a jogging track that rises and falls between Decks 14 and 16 (an innovative design loved by avid runners). Two martini glass-shaped hot tubs bracket the space and are accessed at Deck 16. They are especially nice at night when they light up. The Resort Deck also is used for night-time parties, including silent discos.  
The Rooftop Garden and Sunset Bar at the back of the ship offer spots to sit down and relax with wonderful views. The Rooftop Garden is just that, a garden with plants and all kinds of great seating that looks onto a stage area (for live music) and the big screen (used for movies).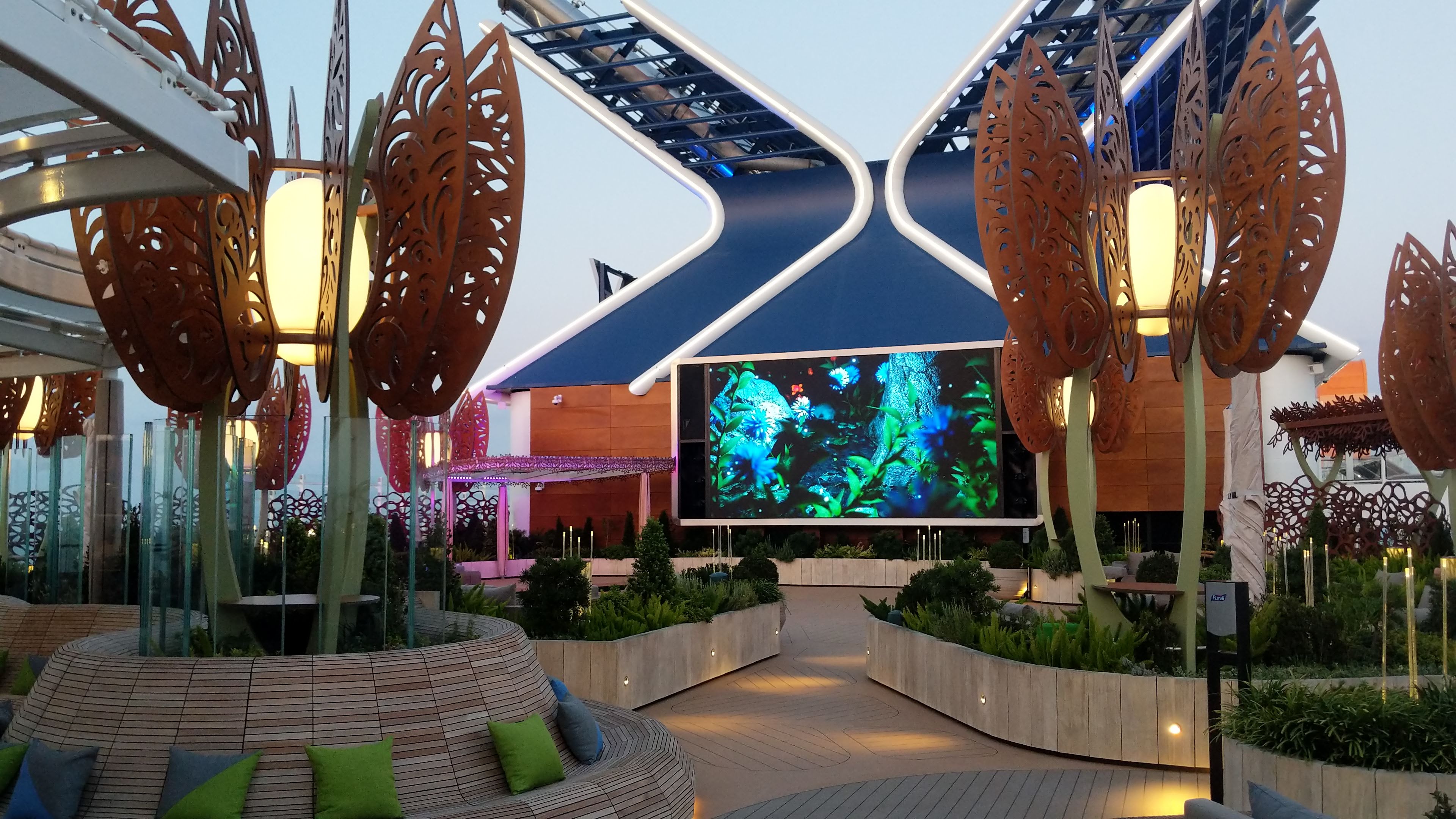 The Rooftop Garden Grill is a fantastic specialty dining option serving up ribs, burgers, steaks, smothered fries, mac and cheese and other delicious favorites that taste evening better when you are dining in warm breezes while sailing at sunset or under the stars.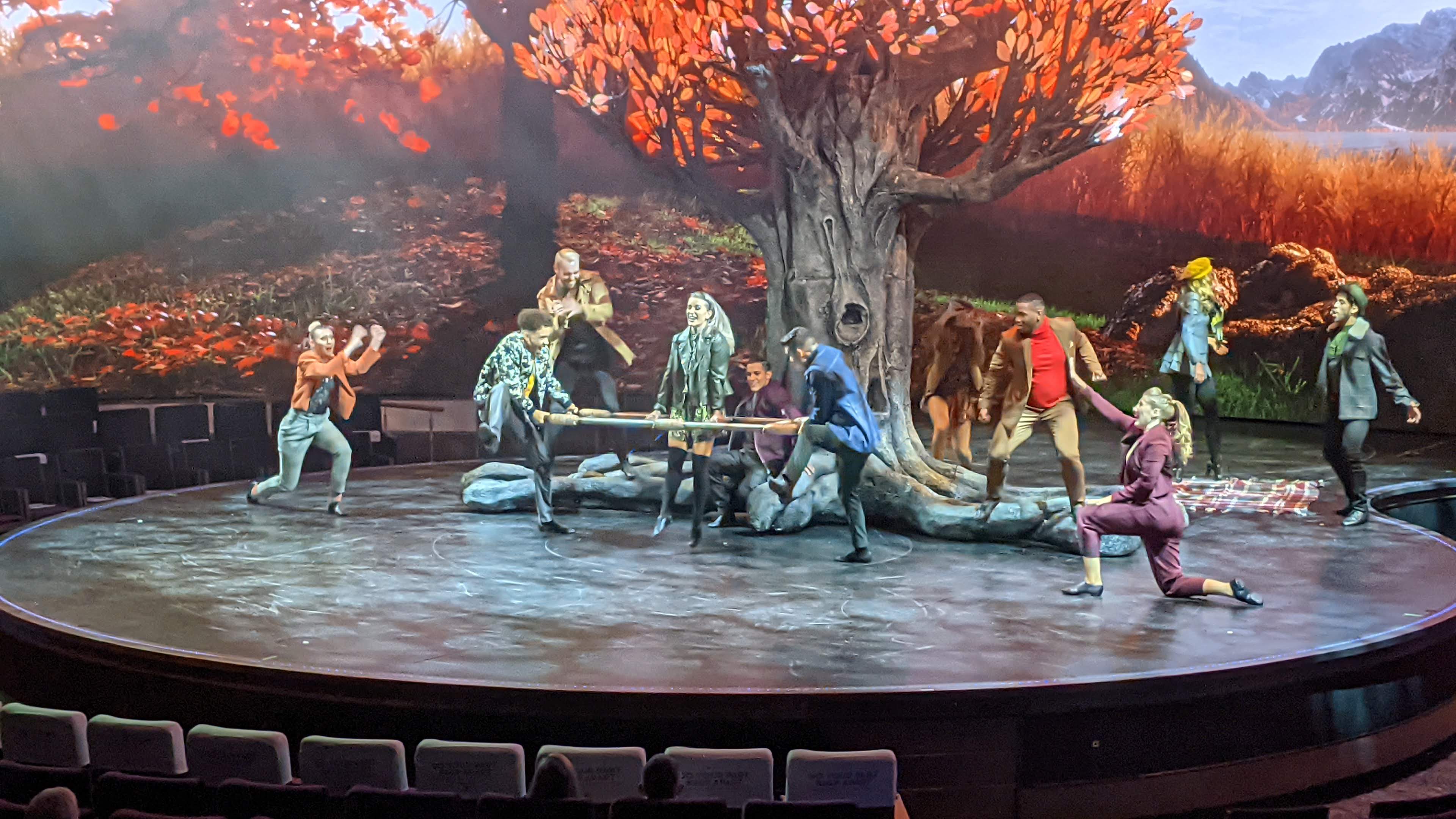 The main theater offers the production shows "Rockumentary," a thriller showcasing rock music throughout the decades, and "Tree of Life." The shows are boosted by world-class technology to amp up the visuals. A 20-foot-tall, 4K LED screen with 17 million pixels wraps around the circular stage and offers video backdrops that dazzle. The 18-foot-high "Tree of Life" features more than 3,000 LED leaves, and the tree magically transforms during the program's vignettes.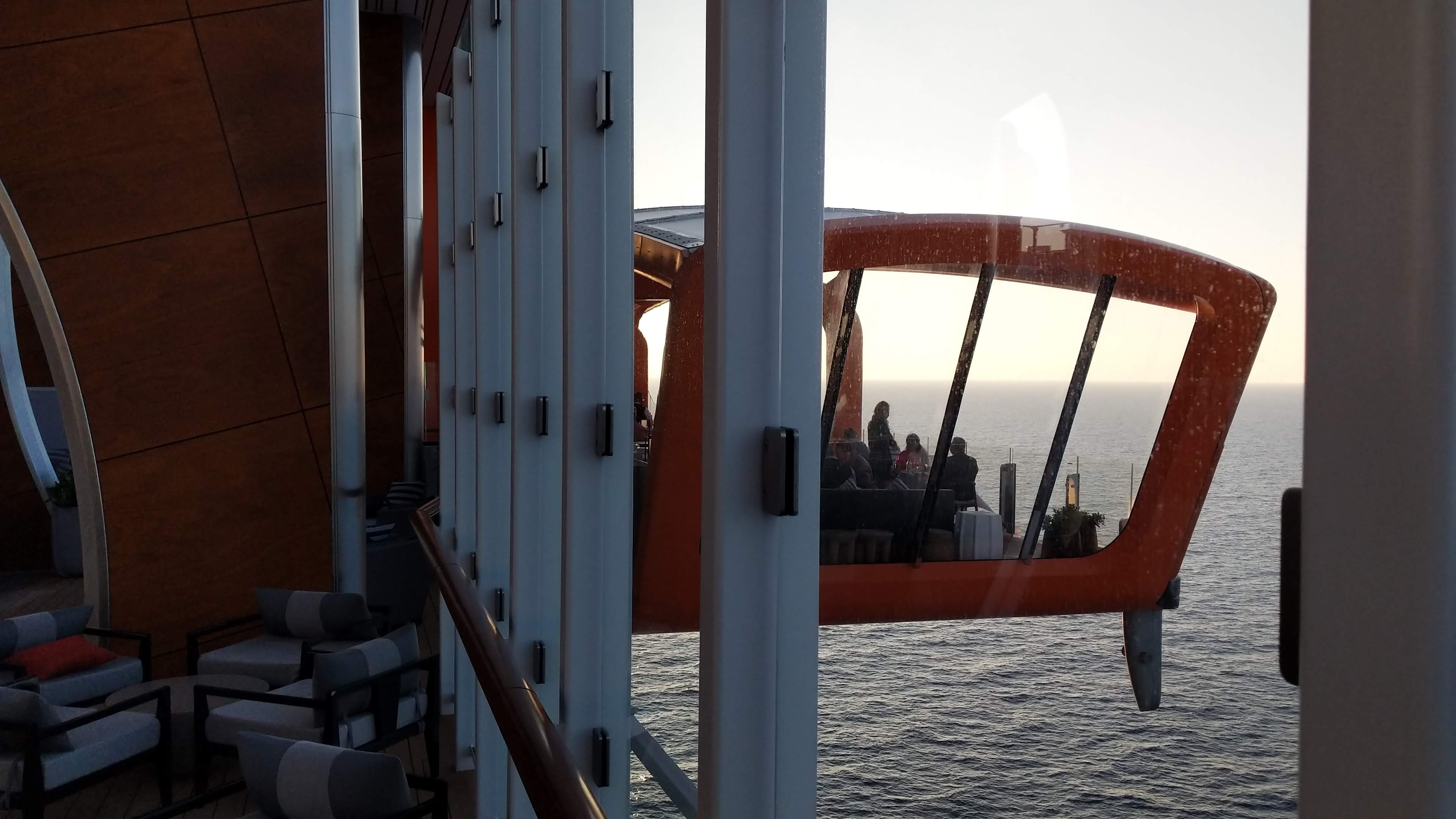 Of course, you also get The Magic Carpet on Celebrity Apex. Celebrity introduced this flexible cantilevered deck on Edge. It sticks over the side of the ship and can be used as a tender platform at sea level, an al fresco dining space for the Raw on 5 seafood and sushi eatery and a pool deck bar and specialty dining venue "Dinner on the Edge" when placed at Deck 14.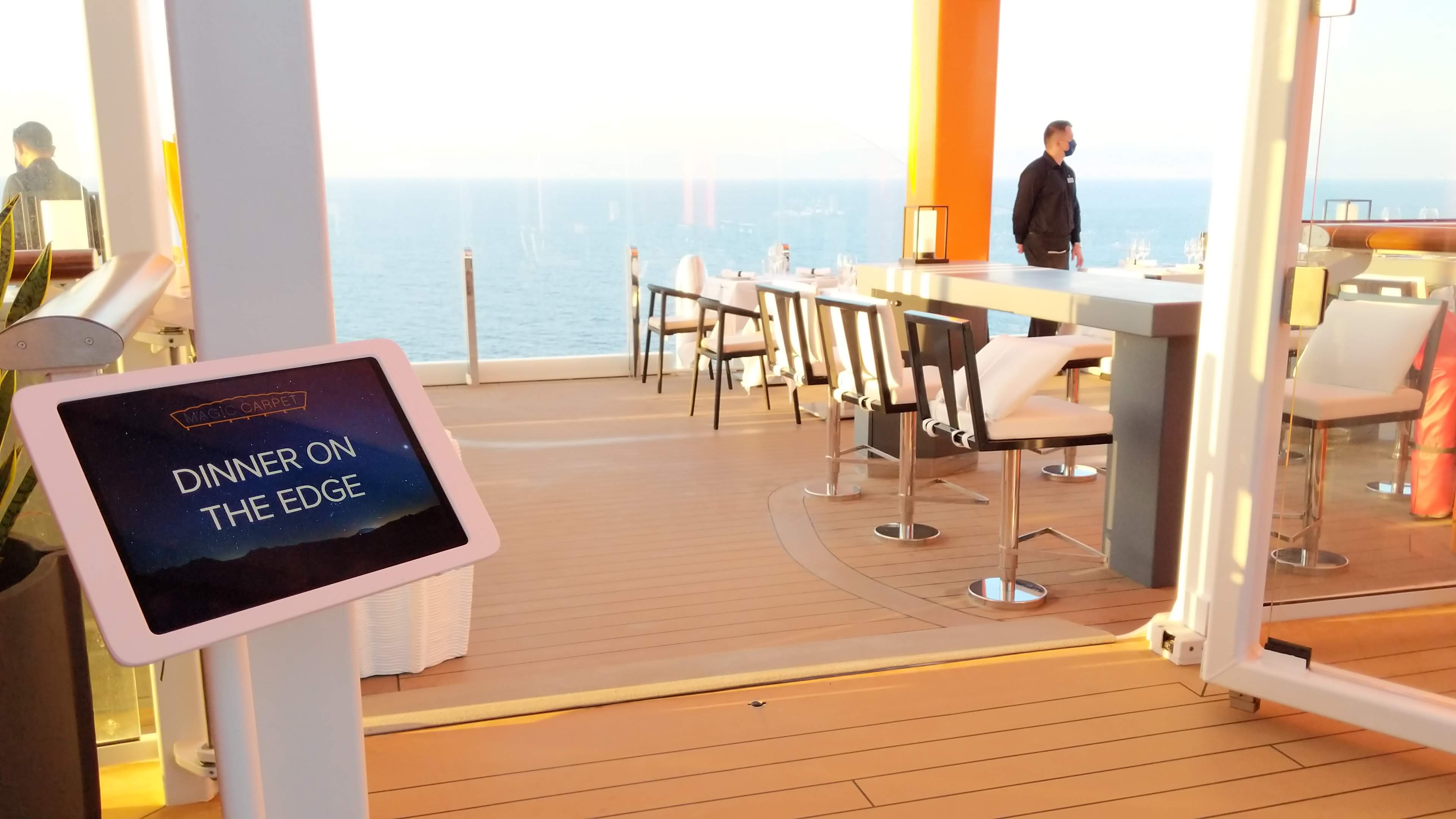 The price for this dinner is hefty at $139 but worth it for a splurge if only to be dining in such a unique spot with amazing views of the waves and sunset. The food was fabulous as well. 
Old Favorites Elevated 
Café al Bacio has more space at the Gland Plaza on Deck 4, and a second location outside Oceanview Café serves up coffee and is joined by Scoops, the gelato and ice cream shop.  
Oceanview Café is the buffet style eatery, and its numerous stations have an amazing array of interantional cuisine and seafood favorites offered daily. There also is a carving station, and the Greek Feast on the ship's Destination Day is a marvel to behold. Servers hand you fresh plates and fill them with your choices. There is no self-serve at the buffet any more, of course. 
Le Petite Chef is an animated dinner show at Le Grand Bistro, and Apex offers a new version and menu not seen anywhere else in the Celebrity fleet. 
On sea days, the only eateries open before 8 a.m. are Spa Café in the Solarium and the Oceanview Café buffet. I found this a little strange, as many cruisers are up by 7 a.m. and probably would like to get started with their day and enjoy their breakfasts at Blu (for Aqua Class passengers) or Luminae (for suite guests). 
The ship has a Camp at Sea kids club and a teen hangout space, as well as a casino and large boulevard of shops, including the world's only Montblanc at sea.